September 23, 2023
Tecno Phantom V Flip 5G: Dimensity 8050, three cameras and 4000 mAh battery for 79,999 dinars
Tecno today unveiled its revolutionary Phantom V Flip 5G – the first flip phone and the latest premium device. This revolutionary smartphone sets new standards when it comes to the combination of the most advanced technology and top fashion aesthetics with a powerful 64MP+13MP+32MP camera system, a unique circular external screen and a stunning design inspired by the cosmos.
Thanks to its perfectly compact dimensions and design, the Phantom V Flip 5G has already been nominated for the German Design Awards thanks to its exceptional appearance and impeccable selection process.
As the brand's latest flip phone, the Phantom V Flip 5G represents another major achievement in Tecno's pursuit of new forms and design languages ​​to enhance the flip phone user experience.
Capture the light and all the details of life in an even higher resolution
The Phantom V Flip 5G brightens up even the darkest images with its advanced technologies that make sure to provide users with enhanced photography in low light conditions.
The powerful 64 MP RGBW Ultra Sensitive Sensor main camera is able to accept 60% more light with reduced noise and improved color accuracy, thanks to the innovative RGBW pixel format.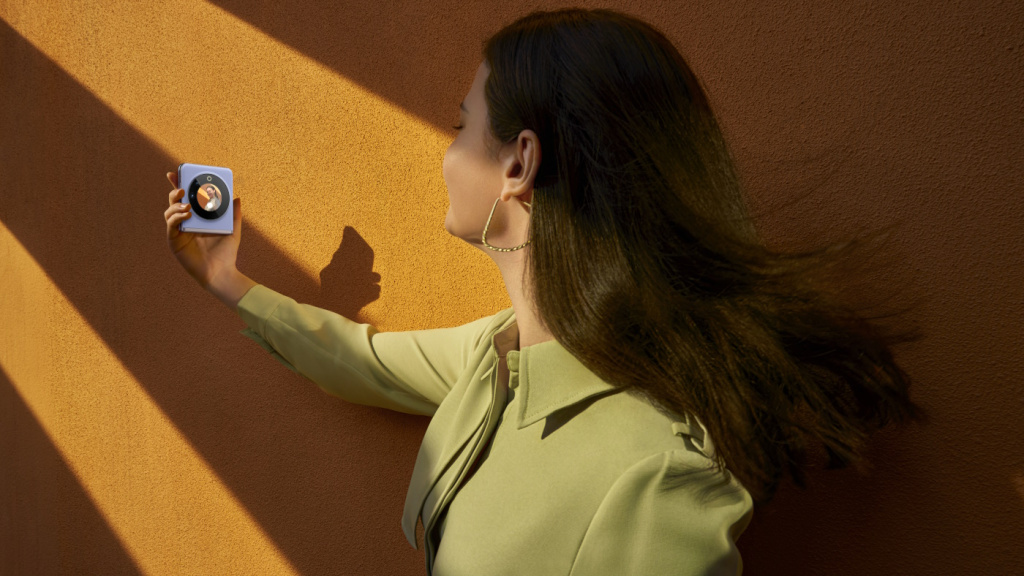 With an impressive 64 MP resolution, the camera has the highest resolution of any flip phone available with f/1.7 aperture and 1.6μm (4in1) pixels. With PDAF, ISOCELL Pixel Isolation and the Pixel Fusion algorithm, the camera system delivers unmatched low-light performance to illuminate even the darkest corners.
Using Tecno's Dual-camera Fusion technology, the 64 MP main camera works in tandem with a 13 MP ultra-wide camera to allow users to zoom in and modify ultra-wide photos while retaining plenty of detail.
For selfie lovers, the Phantom V Flip 5G's 23MP Dual-flash Autofocus front camera provides a unique solution for selfies when not enough light is available. The integrated Micro-slit Dual-flash flash represents a unique solution on one flip phone, and there is also the Super Flaslight algorithm that creates ideal lighting. The camera also uses automatic Eye-focus technology for more accurate subject tracking and greater clarity of detail in selfies and vlogs.
Exceptional creativity with the FreeCam system
Thanks to its flip construction, the Phantom V Flip 5G opens up a whole new world of content creation possibilities to users thanks to the advanced FreeCam system. The device allows users to make the most of their imagination and creativity to capture magical moments with the front and rear cameras.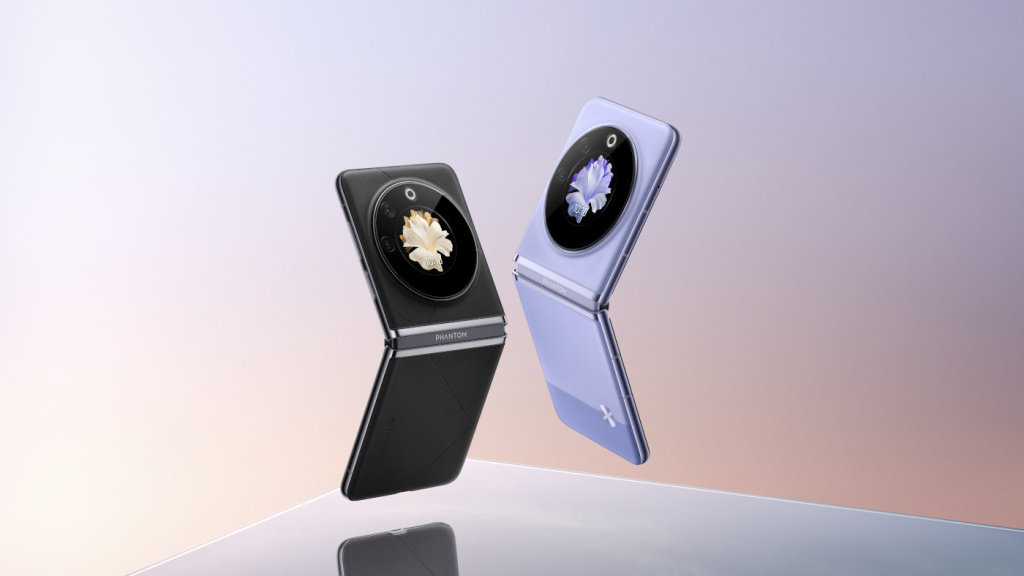 With stability from 30-150 degrees, users can rotate the device to capture better group photos, detailed selfies with the main camera and low-angle shots. Serious performance that allows control with the help of hand gestures or voice will allow users to enjoy maximum hands-free creativity.
Phantom V Flip 5G transports users to a new dimension of ultimate luxury with sophisticated and elegant aesthetics inspired by the cosmos. When folded, the circular outer screen will command everyone's attention with a deep black display that reflects the darkness of space. Eschewing the traditional design language of existing flip phones, the camera module, reminiscent of an asteroid belt, is perfectly integrated into the screen, giving the phone a unique look.
The premium look of the phone is further emphasized by sophisticated colors and materials. For all users who prioritize style, premium leather, which is used in the highest fashion and luxury cars, further refines the look of the phone.
In keeping with its premium look, the Phantom V Flip 5G will be available in two elegant colors: Mystic Dawn and Iconic Black.
Impeccably designed to achieve the perfect pocketable form factor, the Phantom V Flip 5G comes in at 88.77 x 74.05 x 14.95mm when folded, allowing for easy thumb operation, and 171.72 x 74.05 x 6.95mm when unfolded.
A slightly narrower main screen, created for comfortable use with one hand, completes this unique design.
A new vision of the outdoor screen
Phantom V Flip 5G brings a completely different design and ease of use of the unique external screen. The circular, centrally positioned, 1.32-inch AMOLED display is carefully designed for easy thumb control for easy swiping from any angle.
The 352-pixel-per-inch screen allows users to create fun screens based on their needs with customizable backgrounds, Tmojis, 3D interactive virtual pets and many other novelties.

By simply swiping their thumb across the surface of the screen, users can easily access the camera, play music and quickly reply to messages. Things are made even easier by customizable widgets that include weather forecast, vital indicators, sound recording, calendar, stopwatch, clock and alarms, so users don't even have to open their phone to stay up to date with what matters most to them.
In addition to the external screen, the Phantom V Flip 5G opens to reveal an ultra-large 6.9-inch FHD+ 2640×1080 main screen. Superiorly flat and without any unevenness, this screen delivers an unsurpassed user experience thanks to specially designed drop hinges and a thinner and lighter screen. There is an LTPO screen with 10-120Hz display refresh and 360Hz touch processing (using one and two fingers) which ensures exceptional fluidity in operation with lower energy consumption.
Charging seconds for a full day of use
There is nothing elegant about the moment the battery starts to go into the red. That's why the Phantom V Flip 5G is equipped with a 4,000mAh battery so that users can enjoy every day without worrying about where their charger is. When it is necessary to recharge the battery, 45W Flash Charging technology makes sure that after only 15 minutes of charging the battery reaches 50% capacity, and in just 45 minutes to 100%.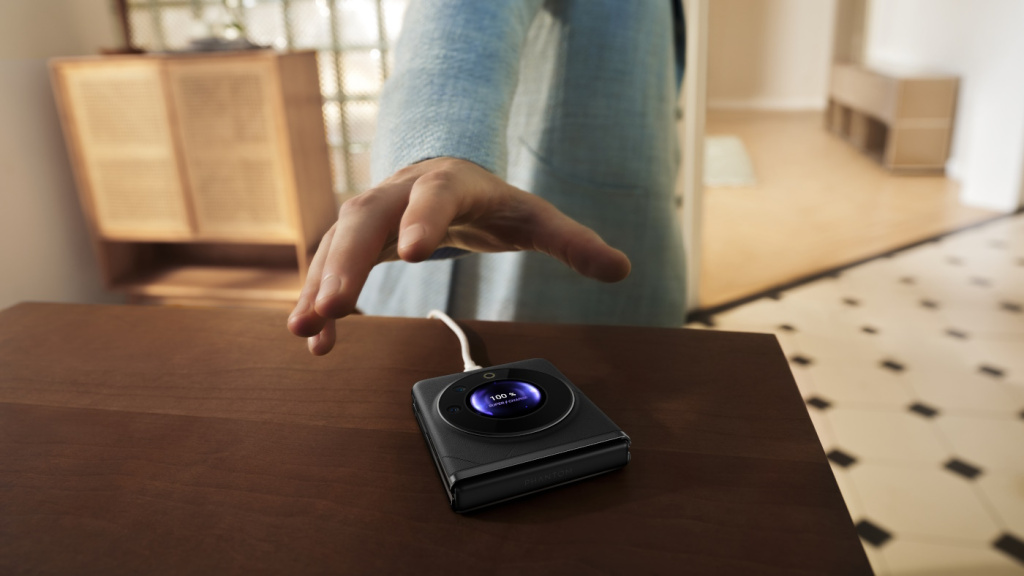 Powerful performance
In order for the Phantom V Flip 5G to provide users with unsurpassed performance in addition to style, there is a MediaTek Dimensity 8050 5G chip that brings top performance with exceptional energy efficiency. The TSMC 6nm chip allows users to enjoy smooth operation and switching from application to application.
The phone is also equipped with an 8/256GB memory configuration with Extended Memory technology that supports the expansion of working memory up to 8GB and advanced Memory Anti-Aging and Memory Slimming functions to further optimize the phone's performance in accordance with the user's memory needs.
The first device with HiOS 13.5
Phantom V Flip 5G is the first Tecno device to come with HiOS 13.5 operating system, an optimized operating system based on Google Android 13.
HiOS 13.5 allows users to fully enjoy all the advantages of a flip phone, from creating video and photo content and editing them to useful Smart widgets. The system also brings intelligent functions such as the ELLAGPT personal assistant and improved phone security.
Phantom V Flip 5G is the result of believing in the power of design that is able to shape the future, and as the latest device with a flexible screen from Tecno, it combines imaginative, elegant aesthetics and advanced technological innovations in a compact, foldable form that fits perfectly in every pocket.
Availability
The Phantom V Flip 5G model will be available in Serbia in October at a price of RSD 79,999.