August 26, 2023
Play Homeworld: Deserts of Kharak for free on Epic Games! Command your army to glorious victory.
If you're not in the mood to drop $50 on a good strategy game right now, and you'd love to play it, then hurry over to Epic Games because Homeworld: Deserts of Kharak is free to download until August 31st.
If you add it to your library at no cost during this period, instead of paying $49 for it, it will be yours forever.
The game is a terrestrial RTS (real time strategy) type that is actually a continuation of the classic Homeworld games.
Through it you can experience the story of Rachel Saget as she leads her people in search of their destiny and homeland through the desert of Kharak.
The people she leads are an army assembled to fight the dangers lurking on the shifting sands beyond the desert dunes.
In multiplayer or single-player mode, you take control of a fleet of land and air vehicles, from nimble light assault vehicles to massive heavy desert cruisers, built to conquer the desert.
With vehicles, you will make your way through massive dunes, deep craters, and enemy canyons on very spacious maps in a convincing video world.
The missions you go through require you to use tactics such as taking advantage of the high ground or ambushing over the dune lines in ground combat. You can also attack the enemy army and their resources directly.
Of course, like any strategy, you need to make meaningful choices when it comes to managing, in this case, military resources that will affect your chances of survival.
You can also play the game online with other players in various game modes, including ranked. Before you can find your homeland through adventures in the desert, you must overcome all the secrets it holds.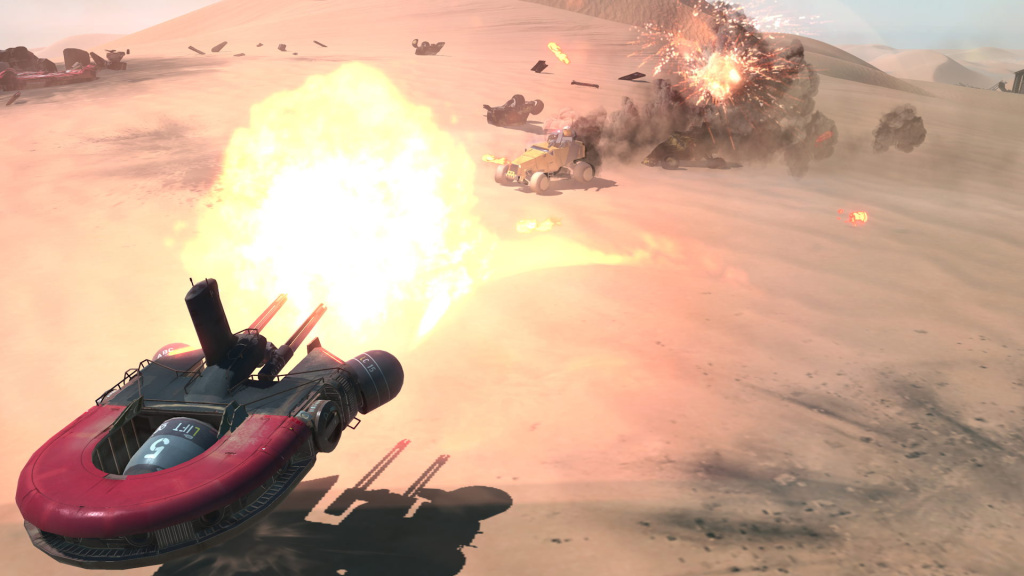 The game is marked Peggy 7, which means that it contains "violence", so it is not recommended for those who are sensitive to it.
When it comes to supported languages, the audio is only available in English, while the text versions are in English, Russian, Italian, Spanish, French, German, and Polish.
System requirements for Homeworld: Deserts of Kharak
The system requirements are not that big, so if you use Windows OS, it is enough to have version 7, 8 or 10, while the recommended version is Windows 10 64-bit.
On the processor side, it could be supported by Intel Core i3-2100 or AMD A10 5800k, and it does not need a frequency higher than 3.8 Ghz.
When it comes to graphics, the minimum you should have is in the range of Nvidia GeForce GT 440 or Radeon HD 4890, and it is recommended that it be at the level of GeForce GTX 770 or Radeon HD 7770.
The space that the game takes is between 8 and 12 gigabytes, and the minimum RAM you should have is 3 GB while the recommended one is 8 GB.