October 5, 2023
Gmail frees you from unnecessary replies to emails by adding reactions with emoticons
Some will say finally, others unfortunately, but the fact is that Gmail receives reactions with emoticons with which you can quickly "reply" or react to an email, so that the other party is also aware of it. In this way, practically, Gmail frees you from unnecessary replies to emails that are boring and time-consuming.
Rumors that appeared last month have now been officially confirmed by Google, which has announced that it is adding this feature to its Gmail platform. The new function will be launched gradually, and will reach Android users first, and then Gmail for iOS and the desktop, i.e. web version.
You will know that you have also received this function when you see "Add emoji reaction" and the emoticon 😊 at the bottom of the email. Tap this option to select the appropriate emoji to react to the email, tap the emoji and it will be sent as a reaction.
All, possibly already existing reactions to the email, if it was sent to multiple addresses, will also be visible at the bottom of the message, and if you touch and hold each of them, you will find out who reacted that way. If you just touch one of the existing reactions, without holding back, you will react in the same way.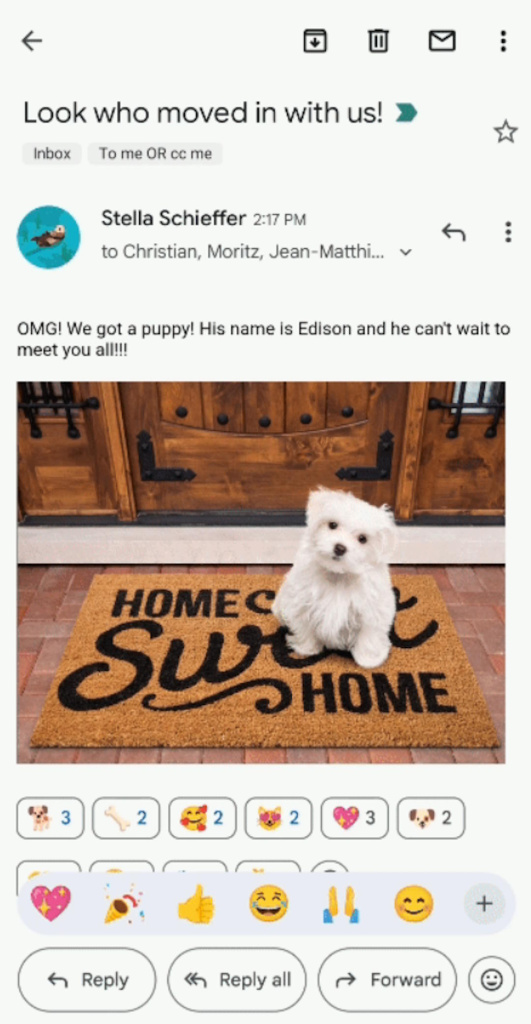 However, you will be able to remove the reaction by tapping the "Undo" option. However, the time limit for undoing this reaction will depend on how you set the "Undo send" settings, which can only be set on a computer. As written on the Google blog, undoing the reaction is available from 5 to 30 seconds after you set it.
Also, a few emoticons will have special "powers", which will allow animation across the entire page, such as the party cap emoticon. From what was presented, it sounds like the new Gmail feature will be similar to how we react to posts on social networks or other online communication apps.
However, there are certain limitations of the new function. If you use independent emails that you have connected to your Gmail account, each individual reaction will arrive as a separate email response. Also, reactions will not be available on school or business accounts, as well as if the email was sent to more than 20 addresses or within a group list, if you use the BCC option, i.e. hidden copies and if the message has Client-side encryption.