August 28, 2023
Despite modest improvements, the price of the 14th generation Intel Core appears to be increasing significantly.
Raptor Lake S-Refresh or the upcoming Intel Core 14th generation processors seem to increase significantly in price, although they are likely to have modest improvements. This information was shared by the X (Twitter) account @momomo_us comparing prices with the previous, 13th generation processor better known as Raptor Lake-S.
Namely, as can be seen in the picture that was published, each of the models of the upcoming generation gets an increase in price by about 15 percent, with a couple of dollars more or less.
Thus, the i5-13600K model from the current 13th generation, from a price of around $330 (depending on the region), will jump to $380 in the new one. Then, the i7-13700K model jumps from $425 to $485, while the i9-13900K will reportedly cost $695 instead of $600.
Compared to these three models, the i9 gets the biggest price increase of $60, although it, like the i5 model, will not get an increase in the number of cores at all, as MSI mistakenly announced the other day. Therefore, these two models in the 14th generation retain six high-performance cores and eight energy-efficient cores, or eight-P and 16-E cores in the case of the i9 model.
Only the i7 will get four additional energy-efficient cores, making it 12, and that will come with a $60 price increase.
This means that although the new generation really gets only a few percent higher operating frequency compared to the current one, if you are a gamer, you will not even feel this difference. Even a decent Intel 12th generation CPU can hardly be characterized as bad compared to the upcoming one.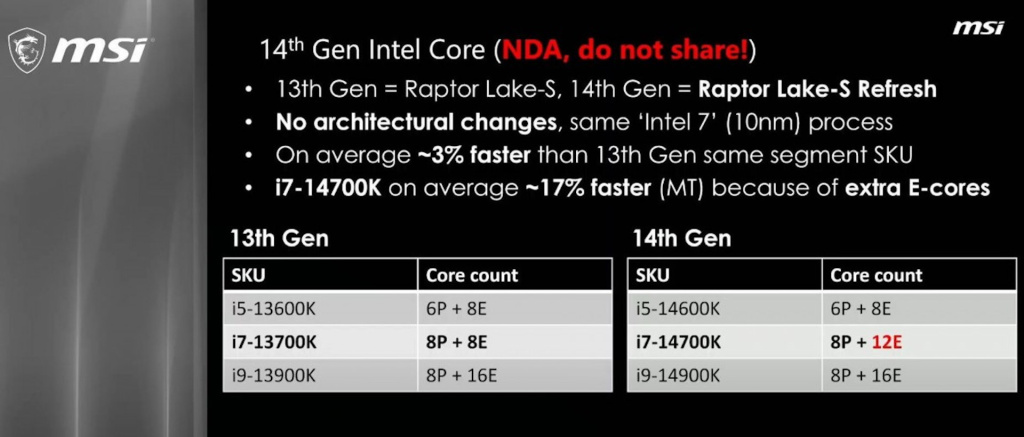 Accordingly, Intel will have a hard time convincing the owners of the 12th and 13th generation of its processors to "upgrade" to the upcoming one. Of course, if you have an older generation CPU, the transition to the 14th will obviously be the best, but for a lower price you can get practically the same upgrade with the Raptor Lake-S, i.e. the 13th generation.
However, we should not forget that this information is unofficial, and Intel may still surprise the public and offer, if at least modest upgrades, then a more modest price increase. The new generation could come out as early as next month, when the Intel annual conference will be held.