September 11, 2023
Xiaomi 14 premiere set to debut next month, confirms insider
Although this is insider information, Digital Chat Station has a long history of good announcements (but also some missed ones), and the new information confirms previous announcements that the Xiaomi 14 will arrive before the famous Chinese holiday, November 11.
The Xiaomi 14 is one of the phones that should be the first to appear with the Snapdragon 8 Gen 3 chipset, a practice that Xiaomi already had with the premiere Qualcomm chipsets. On the other hand, Qualcomm has scheduled its annual event in Hawaii for 24-26. October, when the premiere of the new strongest chipset of this company is expected.
This suits Xiaomi, because they are targeting November 11, their traditional Singles Day holiday, when there are usually big discounts. In addition, Xiaomi 13 sales are going much better than expected, so the warehouses of this model are empty, and Xiaomi 14 is coming at the right time.
The insider also notes that the parent company expects the Xiaomi 14 to have better sales than the Xiaomi 13 series, which exceeded all expectations.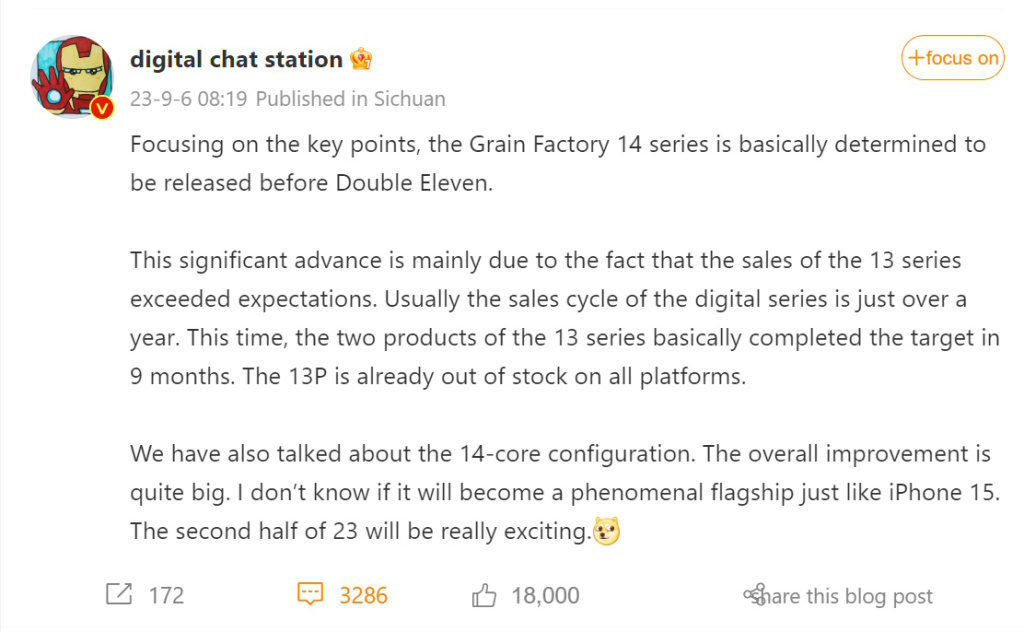 Like the Xiaomi 13, the Xiaomi 14 is expected to come with a flat screen, and the Xiaomi 14 Pro with a larger, curved screen. The insider notes that both phones will arrive with three 50 MP cameras. To recall, the Xiaomi 13 Pro arrived with such a system, while the Xiaomi 13 came with a 50 + 12 + 10 MP system.
Snapdragon 8 Gen 3 is expected to bring serious improvements when it comes to performance, with a new core layout (1+5+2) and a fast Cortex X4 prime core. Opposite it, the Samsung Exynos 2400 with its 10 cores and the MediaTek Dimensity 9300, which plans to eliminate energy-efficient cores completely, are waiting from the corner.