September 22, 2023
Windows Copilot arrives on September 26 with the 23H2 update
Microsoft announced during its special Surface and AI event in New York that its digital assistant based on artificial intelligence (AI) Windows Copilot will arrive on September 26. With the version of the Windows 11 23H2 operating system, in addition to the assistant, other functions, both AI and "ordinary" ones such as RGB lighting control and a new look of some programs, are coming.
The digital assistant is now a standalone feature, a core component of artificial intelligence within all Microsoft products including Windows, Edge and Microsoft 365. Windows Copilot lets you chat with it as well as other AI chatbots like Bing Chat or ChatGPT, but there are many more unique capabilities because it is built into Windows.
Windows Copilot can thus extract solutions from, for example, a mathematical graph that you have taken a picture of, or extract information from your phone such as flight times or others. The company claims that it can improve some functions such as Copy-Paste, and can recognize other applications and devices.
When it comes to other AI features coming with the new update, one of them is Background Removal in Paint which automatically detects the subject of the photo and removes the background elements so you can keep only the essentials. In the future, Snipping Tool will be able to recognize text on screenshots, so-called screenshots, which will also allow copying text from them.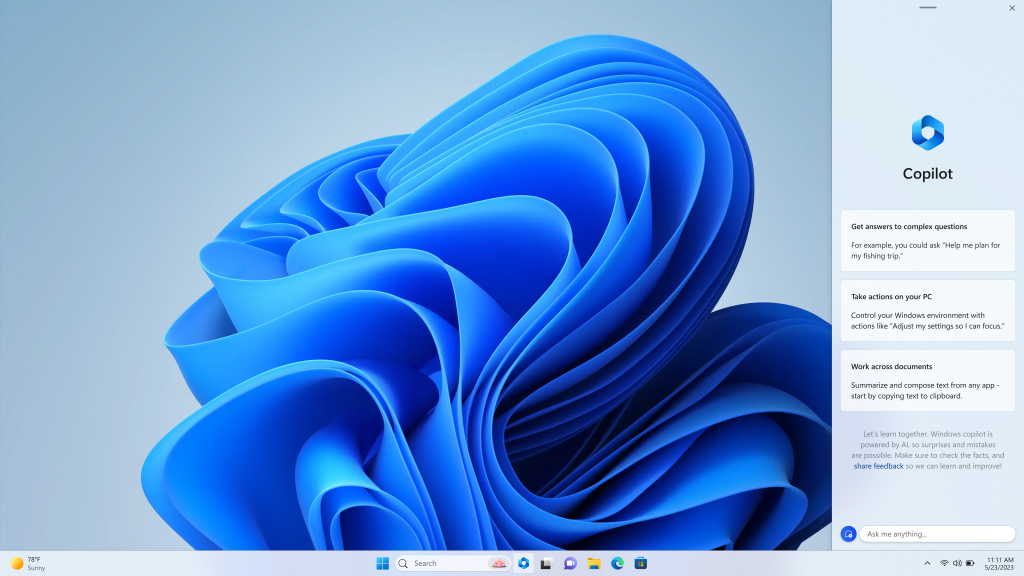 The update with the 23H2 version also brings RGB lighting control, a new File Explorer look as well as differently designed sound settings, improved backup functions and more, writes XDA-developers.
However, apart from the Windows 11 version, the digital assistant Copilot is also coming to Microsoft 365, formerly known as Office suites for businesses. Previously, high prices were announced for the assistant in these packages, and it will be available in the form of Microsoft 365 chat with each of the applications. Basically, it will be a chatbot for businesses that can help you get your work done easier using artificial intelligence, and it will also support third-party app plugins, which should expand its capabilities even more.
Also new will be the Microsoft Designer feature that helps you create different types of designs using natural language queries, which you can then edit yourself, and it will also be available within the Bing Chat bot. The Bing Image Designer feature will also get an update to Dall-E 3, an "artistic" AI model that can make images and it should be free on the Bing chatbot. This same function also exists within the OpenAI ChatGPT bot, but in the Plus version, which, unlike Bing, is paid for.