November 18, 2023
Qualcomm officially presented the Snapdragon 7 Gen 3, a new mid-range chipset
Qualcomm is not done with the announcements of new mobile processors for this year. Yesterday is the company officially presented the Snapdragon 7 Gen 3which is its latest chip aimed at mid-range Android smartphones and tablets.
Earlier this year, the company also launched Snapdragon 7+ Gen 2, another mid-range mobile chip. However, this new one Snapdragon 7 Gen 3 the chip must be a successor Snapdragon 7 Gen 1which went on sale in 2022, and actually has a lower-end processor compared to the Snapdragon 7+ Gen 2 (we'll talk about this confusing branding of Qualcomm's mobile chipsets another time).
Snapdragon 7 Gen 3 delivers 15% more CPU performance than its predecessor
In any case, the new chip has four Cortex-A715 CPU cores, one of which runs at a speed of 2.63 GHz, while the remaining three are set to 2.4 GHz. Also, it has four Cortex-A510 CPU cores, all with a working clock of 1.8 GHz. Qualcomm claims that the Snapdragon 7 Gen 3 provides fifteen percent more CPU performance compared to the Snapdragon 7 Gen 1. So, they didn't really cut corners.
On the GPU side, this new chipset brings us the Adreno 720 which supposedly provides 50 percent better performance compared to the Adreno 710, which is found in the Qualcomm 7 Gen 1 chipset. The company is also promoting its Hexagon NPU for better AI application performance, which it says is 60 percent better compared to the older chip.
Snapdragon 7 Gen 3 will support camera sensors up to 200mpx
Some of the other hardware specs on the new Snapdragon 7 Gen 3 include the Snapdragon X63 5G Modem-RF system for download speeds of up to 5 Gbps on mobile networks. Qualcomm Spectra ISP hardware can support smartphone cameras up to 200 MP.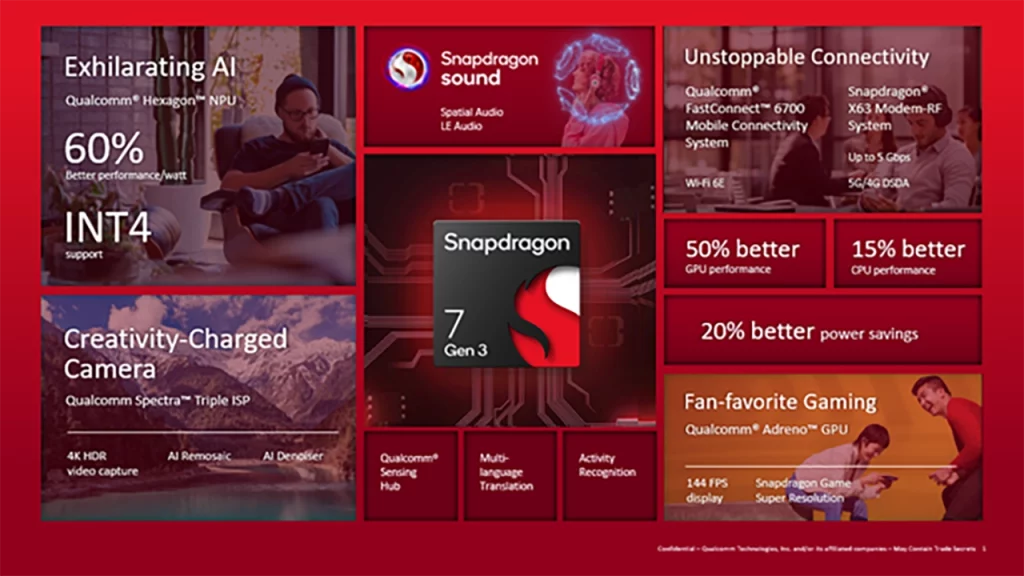 The audio hardware supports features like LE audio and surround sound. You can read the detailed specifications of this chipset at this link.
The company says the first smartphones with the Snapdragon 7 Gen 3 chipset will go on sale at the end of November. As stated, the devices in question are Honor and Vivo.
Last month at the Qualcomm Summit, the company unveiled its latest premium mobile chipset, Snapdragon 8 Gen 3. She also announced coming Snapdragon X Elite procesor for personal computers, which will be in several future laptops in 2024, including Microsoft Surface devices.