August 25, 2023
MSI Accidentally Released Specifications of the 14th Generation Intel Core Processors
The Specifications of the Intel Core 14th Generation Processor Accidentally Revealed
The video, which has now been hidden, contained slides that briefly explain the specifications of the yet-to-be-released Intel Core 14th generation processor. This happened after MSI mistakenly released some sort of video tutorial about its Intel 700 series motherboards and upcoming PC cases.
Although officially the video is unavailable, the relevant information is already memorized and shared further. The slides unfortunately reveal that the improvements to the upcoming Intel Core 14th generation will be modest and that it will not have major core count upgrades.
Comparison of Intel Core 13th and 14th Generation Processors
Namely, one of the slides published by the VideoCardZ portal compares Intel Core i5-13600K, Core i7-13700K, and Core i9-13900K processors of the 13th series with their new generation counterparts.
According to him, it looks like only one of the upcoming K-series processors will see a fundamental change in core configuration. While the i5 and i9 models retain the layout and number, the i7 model gets four additional energy-efficient cores.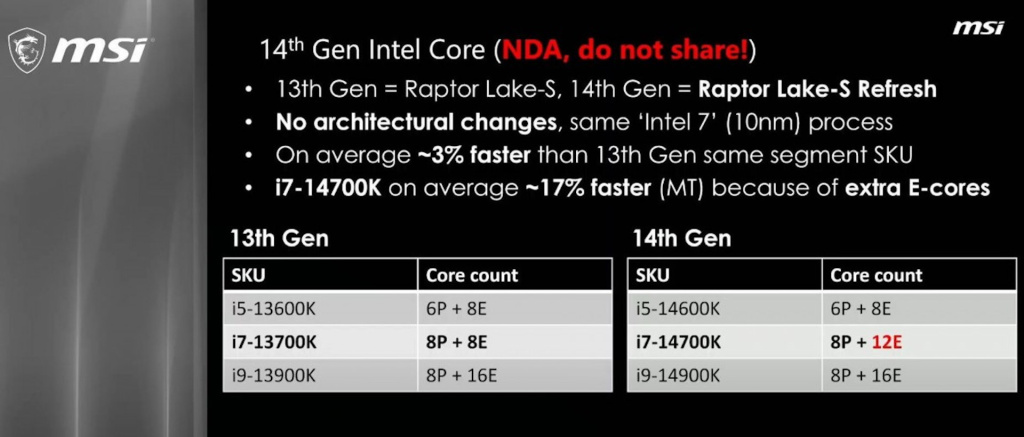 This means that the Core i5-14600K will remain on the layout of six high-performance cores and eight energy-efficient cores, and the Core i9-14900K on eight P-cores and 16 E-cores, just like its predecessors. However, while the Core i7-14700K retains eight P-cores, instead of eight, it will have 12 E-cores.
As claimed by MSI, in the i7 model this leads to a 17 percent improvement in average performance when it comes to executing a larger number of instruction sequences, i.e. multi-threaded performance.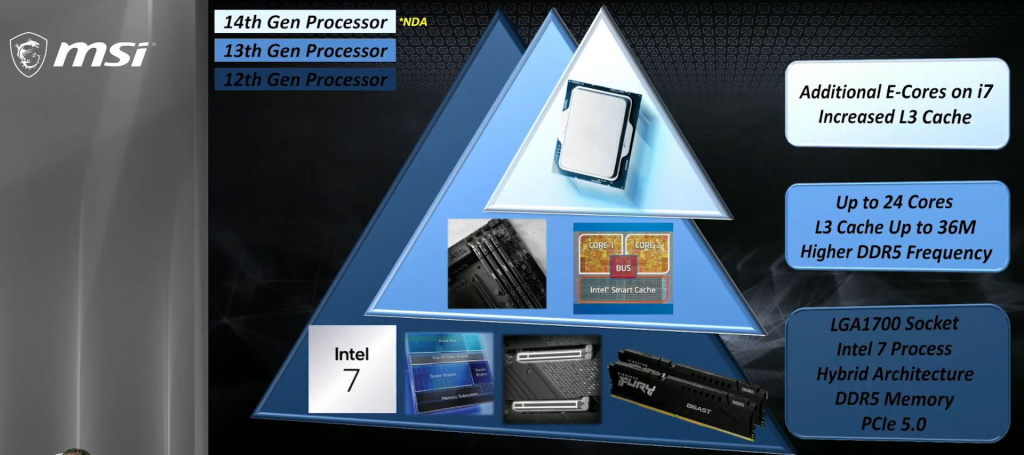 Modest Performance Increase in the Intel Core 14th Generation
However, things are much less impressive when looking at the rest of the series, which is otherwise based on Intel's 7, i.e. 10nm manufacturing process. The new generation gets an average performance increase of around 3 percent compared to the previous one, which is in line with the earlier rumors circulating on the internet.
The reason for this is that the processors are Intel 14th generation, also known as Raptor Lake-S Refresh, which means that it is actually a slightly modified architecture of the Raptor Lake-S 13th generation processor. Therefore, in some cases the operating frequency will be increased, and in others the number of E-cores and cache memory.
However, there was no specific information on the slides