August 29, 2023
Motorola ThinkPhone Enhances Key Business Features
Motorola and Microsoft have announced two new features for ThinkPhone users that enhance the phone's versatility and suitability for the modern workplace. These features include full integration with Windows 365 cloud capabilities and the integration of Push To Talk within the Walkie Talkie function offered by Windows Teams. With these improvements, the Motorola ThinkPhone has become the ideal phone for remote work.
Enjoy a complete PC experience with Motorola ThinkPhone and Windows 365 cloud PC
Windows 365 combines the power and security of the Microsoft cloud platform with the versatility and ease of use of PC devices. By integrating this capability into ThinkPhone, Motorola offers business users a complete cloud PC that fits in their pocket, enabling them to work from anywhere in the world.
ThinkPhone users can now take advantage of Windows 365 integration and stream the Windows experience from their ThinkPhone device to a larger screen by simply connecting the device with a USB-C cable, along with a Bluetooth keyboard and mouse.
Users can enhance their ThinkPhone experience by connecting it to a Lenovo monitor, such as the ThinkVision P27h monitor with a 27-inch QHD display, along with Bluetooth peripherals like the Lenovo Professional Wireless Rechargeable Combo keyboard and mouse or the Lenovo GO Wireless ANC headset. This setup provides users with a complete Windows PC experience, including personalized apps, content, and settings, no matter where they are.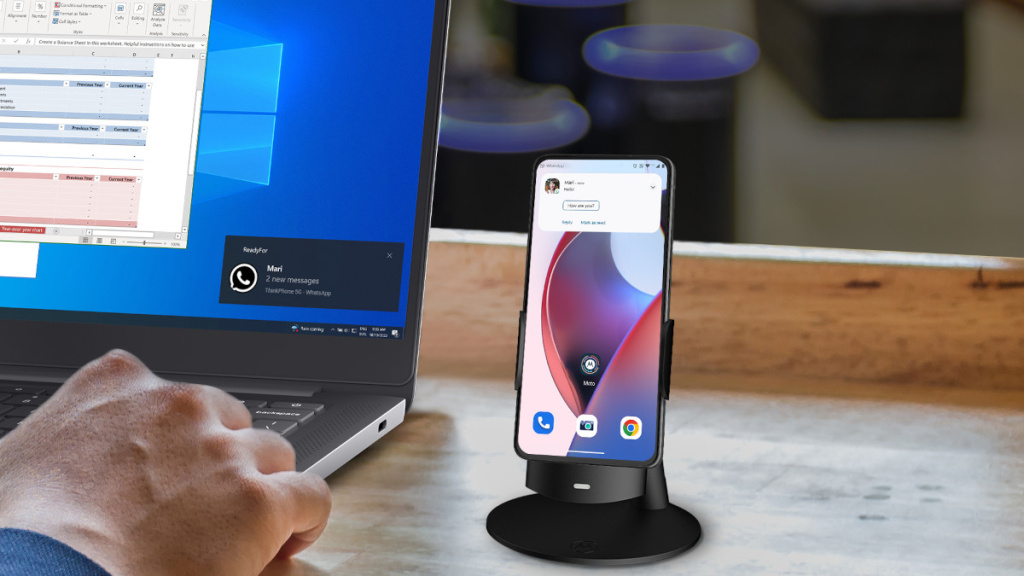 This new capability not only provides users with the flexibility of true mobility and maximum productivity, but also allows IT departments to move away from traditional business setups and reduce costs.
Easily connect with colleagues with the Walkie Talkie feature within the Microsoft Teams application
When we are busy with work, convenience and accessibility are important. The ThinkPhone phone makes everything easier with its legendary red button. Now, with just two taps, users can enjoy seamless phone and computer integration through Think 2 Think connectivity.
This functionality has been further expanded with the addition of the Walkie Talkie feature within the Teams application. By simply setting the red button to activate this function, users can engage in instant push-to-talk communication.
This feature is available out of the box on the ThinkPhone and perfectly integrates the red button with the Walkie Talkie capability within the Microsoft Teams application. This allows users to instantly communicate with teams or departments using Teams channels.
Motorola ThinkPhone – an unbeatable business device
ThinkPhone offers users a comprehensive set of security and support features that provide advanced protection and easy management of settings through the ThinkShield platform. ThinkShield offers superior security through specialized hardware, software, and processes that ensure device security.
In addition to security, ThinkPhone boasts a premium and durable design. It is made of Aramid fiber, which is stronger and lighter than steel, and features an aluminum frame and Gorilla Glass Victus. With these features, the ThinkPhone achieves IP68 certification for water and submersion resistance, as well as passes Mil-STD-810H tests for resilience.
The premium specifications of ThinkPhone include a Snapdragon 8+ Gen 1 processor, a large 6.6-inch FHD+ display, a 5,000mAh battery, and a 68W Turbo Power charger that can also power any Lenovo laptop.
Completing this powerful device is the advanced 50 MP Ultra Pixel camera, which delivers premium image quality in every video call, regardless of lighting conditions.
Availability
Windows 365 support and Walkie Talkie functionality will be available to ThinkPhone users in the coming weeks.