September 10, 2023
Intel's 14th Generation Processor Families: Full Specifications Revealed
Although the premiere of the refreshed Raptor Lake generation of processors is expected at the end of the month, the specifications of the new models are already more or less known. Dubbed the 'Raptor Lake Refresh', the upcoming line of processors has been in the news a lot due to leaks that revealed key details, including the number of cores and clock speeds of some flagship models like the Core i9-14900K. According to reports from XDA, the key specifications of the entire line are known.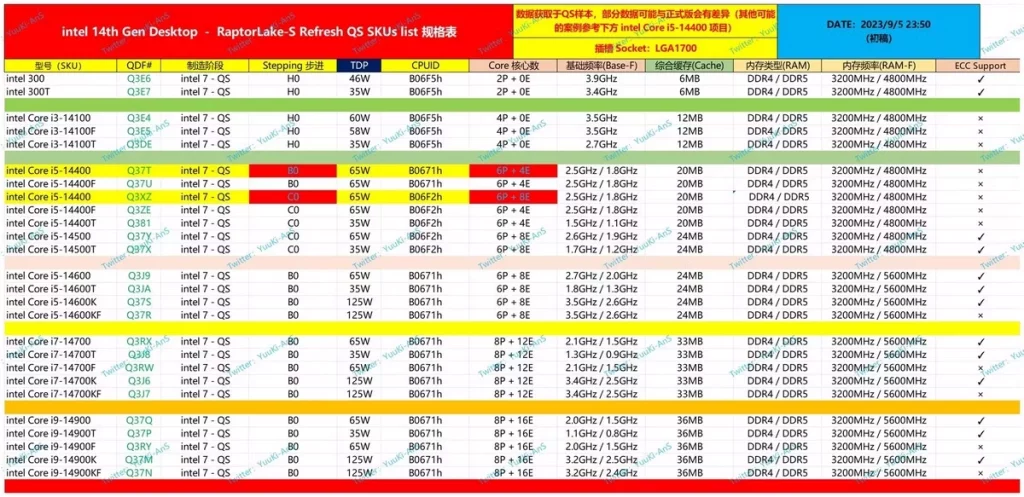 The information was originally posted on Twitter by user Yuuki_AnS, but the post has since been deleted. It contained details of the Intel 14th gen. Raptor Lake Refresh processors, including all models from the basic Intel 300 to the powerful Core i9 processors. If the list is accurate, Intel is preparing five different Core i9 models, all with 24 cores, 8 performance cores, and 16 efficient cores.
Intel 14. gen. Core i7
The Core i7 family will also have 5 SKUs: Core i7-14700K, 14700KF, 14700F, 14700T, and 14700. All models are expected to have 20 cores with 8 P-cores and 12 E-cores, along with up to 33 MB L3 cache. This means that the new Core i7 CPUs will have more cores than their predecessors.
Intel 14. gen. Core i5
The Core i5 line may come in several different core configurations. Core i5-14400, 14400F, and 14400T will have a 6P + 4E core configuration, while Core i5-14500, 14500T, 14600, 14600T, 14600K, and 14600KF will come in a 6P + 8E core configuration.
Intel 14. gen. Core i3
The Core i3 line currently consists of three models: Core i3-14100, 14100F, and 14100T. These will be quad-core chips with only P-cores and 12MB of L3 cache.
Intel 300
The line will also include dual-core Intel 300 and 300T processors with 6 MB of L3 cache and a clock speed of 3.9 GHz. All models have controllers that support DDR4 and DDR5 memory.