October 13, 2023
Honor introduced the Honor Magic Vs2 in China
Global technology brand Honor has unveiled the Honor Magic Vs2, its latest foldable smartphone, in China. In addition to a series of innovative technological novelties, the Honor Magic Vs2 sets a new record as the lightest smartphone that folds inwards, breaking the weight barrier between foldable devices and classic phones. With leading market share and provision flagship i lifestyle of foldable products in different price ranges, Honor further strengthened its dominant position as the leader of this industry in China.
"We are excited to introduce the Honor Magic Vs2. With its wide range of revolutionary features and powerful performance, the Honor Magic Vs2 is poised to drive the mass adoption of foldable phones by providing a more complete coverage of the price range, thus bringing an efficient and convenient foldable device experience to more consumers." said George Zhao, CEO of Honor Device Co. Ltd.
Honor Magic Vs2 – Extremely light and thin design
Weighing just 229g, the Honor Magic Vs2 pushes the boundaries of foldable device innovation. With a body made of a rare aerospace magnesium alloy, which provides 33% less density and covers 72% of the area under the screen, the Honor Magic Vs2 is even lighter than its predecessor, making it the lightest inward-folding phone today. The super-light titanium hinge, manufactured using state-of-the-art 3D printing technology, achieves the perfect balance between weight and strength. With a gearless structure and using a water drop design, the hinge provides a smooth opening and closing experience, allowing the phone to be opened at any angle effortlessly.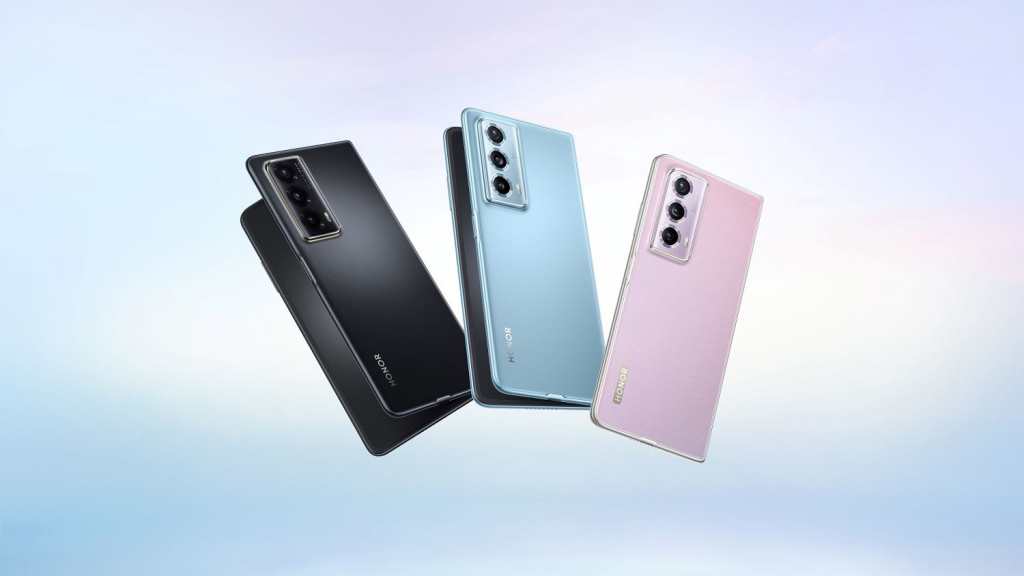 Exceptional clarity and viewing comfort
The Honor Magic Vs2 features a 6.43-inch, 20:9 outdoor OLED display that supports a resolution of 2376×1060 pixels and a maximum brightness of 2500 nits to provide an extremely sharp display. When unfolded, the internal 7.92-inch foldable OLED screen offers a much larger display with its resolution of 2344×2156 pixels and a brightness of up to 1,600 nits.
Continuing its commitment to human-centric technology, Honor Magic Vs2 comes with advanced features for maximum user comfort. With 3840 Hz PWM dimming supported on both the external and internal screens to minimize digital eye strain, the Honor Magic Vs2 is a phone that effectively doesn't strain your eyes.
Outstanding camera capabilities for superb photos
The Honor Magic Vs2 has a triple camera system, consisting of a 50 MP main camera, a 20 MP telephoto camera and a 12 MP ultra-wide camera, allowing users to take great photos with its superior light absorption capabilities. With support for up to 40x zoom, AI Motion Sensing Capture and optimized shooting algorithms for portraits and night scenes, Vs2 can let you create masterpieces in seconds anytime and anywhere in your daily life.

Honor Magic Vs2 – Leading performance, maximum productivity
The new phone is powered by the mobile Qualcomm Snapdragon 8+ Gen1 platform, which provides excellent performance to the Honor Magic Vs2 phone. With Honor GPU Turbo X and OS Turbo X solutions, the new Honor phone provides a fast and smooth user experience, based on the optimization of the resources of the entire system. Honor Magic Vs2 runs MagicOS 7.2, which maximizes the productivity of the device, with a new function of "floating" applications and several split-screen modes that open a new level of interactive use.
Packed with a massive 5,000mAh battery and 66W Honor SuperCharge charger, the new Honor phone is at the forefront of foldable phones in terms of battery capacity, ensuring users stay connected without the need for constant recharging.
The Honor Magic Vs2 is available in China from October 12th in a range of elegant colors at a price of RMB 6,999, which is around €910.