October 3, 2023
Google Pixel 8 unboxed and shown two days before the official presentation
Soon, on Wednesday, the fourth of October, the official premiere of the new Google Pixel 8 phone awaits us, and already today a video of its unboxing appeared on the YouTube platform. Leaks of information when it comes to phones happen more and more often, so by the time the devices meet their official premiere, most of the specifications and appearance they will have are already known to the public.
In this case, a video of a person unpacking the retail box of the new Google Pixel 8 phone was released by the YouTube channel PBKreviews in a short video format called Shorts. This channel usually publishes teardown videos as well as endurance tests, rather than data leaks, but now we have a different situation.
Anyway, the video he published this time shows the contents of the phone box, which includes: USB C to C cable, USB C to A adapter, a short guide and the phone itself.
The color of the phone in the video is a shade between green and gray, and its official name is Hazel. The unpacked device is in the version with 8/128 GB ratio of RAM and storage memory.
You can see more details about the specifications in another leak that allegedly came from Google itself and was published by GSMArena. The table shows the basic specifications of the Google 7 and 8 phones, as well as a comparison of the Google Pixel 7 Pro and Google Pixel 8 Pro devices.
The table includes a comparative display of the manufacturer's suggested prices, where it can be seen that the basic model is $700, or $100 more expensive than the model from the previous series, while the Pro variant has kept the same price as last year, or $900.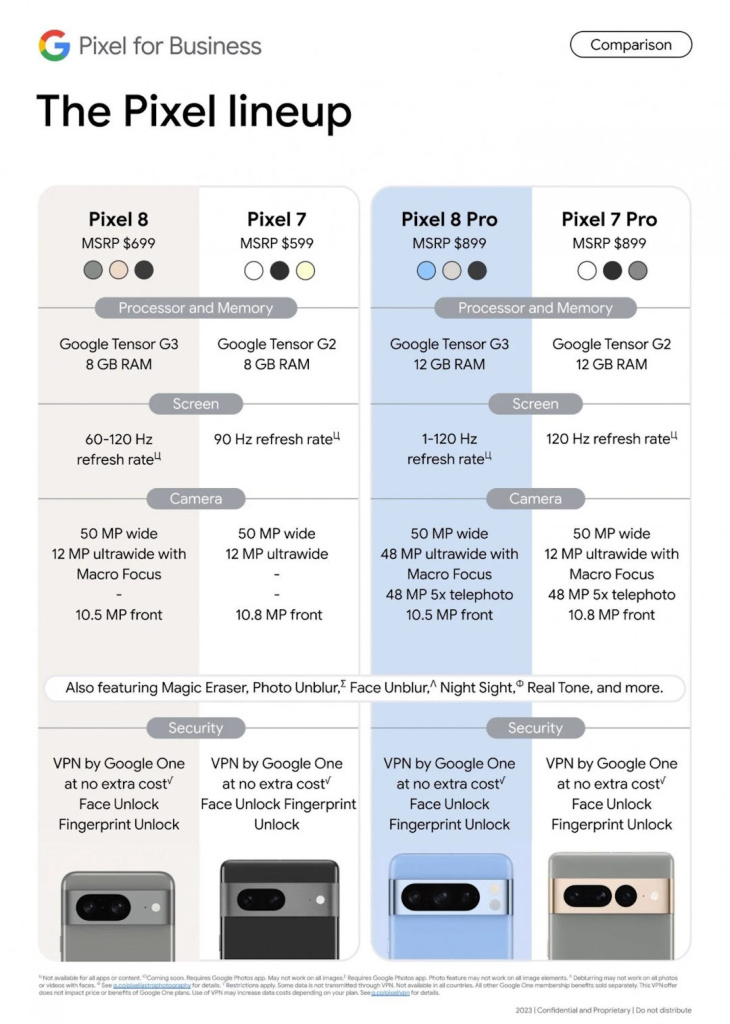 Below the prices are the names of the processors that the new and last year's models carry, so we see that the new series is equipped with a Google Tensor G3 chip with 8 in the basic, or 12 GB of RAM in the Pro variant. The configuration in this case is the same as last year, with the difference that the previous series is powered by the Tensor G2 chip.
The screen refresh rate on the basic variant will be 60-120 Hz, while on the Pro model it is 1-120 Hz. The table also compares the camera systems that each of the four mentioned phones have, and we will see if they will officially be like that in exactly two days.