October 10, 2023
Google encourages users to use passkeys instead of passwords to log in by default
As part of the movement towards its goal of an almost complete technological industry, i.e. In a "password-free world," Google encourages users to default to passkeys instead of passwords to log into their accounts. You should see this the next time you log in to your account, when Google will ask you to set the access key or passkey, saving you from having to dig through the settings manually if you wanted to do this before.
Access keys actually mean a way to log into an account through sensors such as fingerprints or facial recognition, or through PINs or patterns that we normally use on smart devices. Tech giants claim it's an easier, faster, and more secure way to log into accounts and are slowly setting this method of logging in as an industry standard, as we've seen in the case of Microsoft.
However, Google, as it has previously announced, still says that passwords will remain "a part of our lives", and that users will still be able to choose to log into their account in the traditional way, via a password. They can also opt out of using access keys entirely by disabling the "skip password when possible" option in their account.
The company announced the enablement of the feature earlier this year with the text "The beginning of the end of passwords" in which it introduced it, also noting that users will still be able to use passwords or two-step authenticator.
Access keys or passkeys
This method of logging into accounts can replace traditional passwords with authentication methods from your personal device. In this way, you can sign in to Gmail, iCloud and other services just by activating the facial recognition function, fingerprint on the phone or using the Windows Hello function on the computer.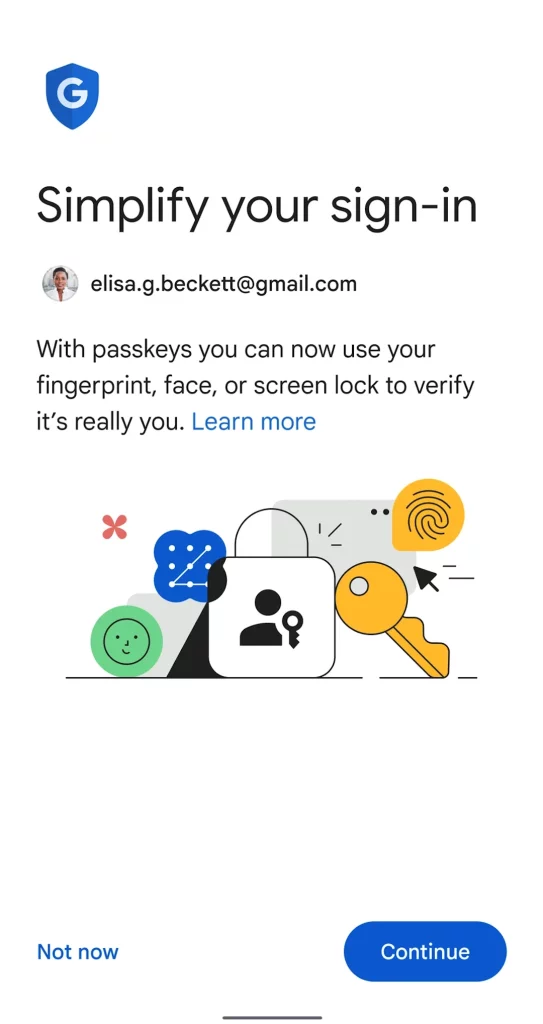 When you create an access key, WebAuthn technology (Web Authentication) practically generates two different keys. One that will be saved on the site or service where you have an account that you log into and the other, a private key that will be saved on your device, which you will use to confirm your identity when logging into your account.
Of course, there is the risk of losing or damaging the device you store the passkey on, but since they work on multiple devices, you may want to back them up.
Many services that support this method of login, in this case will also be "authenticated" again to your phone number, e-mail address or hardware security key if you have one.
This login method works on a similar principle to the Mailvelope service for email encryption, and Apple and Google password managers, as well as 1Password and Dashlane already support access keys.