August 25, 2023
G.Skill Boosts AMD Ryzen Performance with New Trident Z5 Neo RGB Memory
Introducing G.Skill's New DDR5-6400 Memory
G.Skill recently unveiled their latest memory offering, the DDR5-6400. These modules come in sets of 32 GB (16 GB x2) and 48 GB (24 GB x2) capacity, making them ideal for configuring a dual-channel RAM subsystem for improved performance. Notably, these modules are part of the Trident Z5 Neo RGB series, which now also includes a new white version.
The Perfect Match for AMD Ryzen 7000 Series Processors
However, the key advantage of these modules lies in their compatibility and optimized performance with AMD Ryzen 7000 series processors, specifically when paired with motherboards based on the AMD X670 chipset and AGESA 1.0.0.7c BIOS version.
By utilizing the AMD EXPO profile for overclocking, these modules surpass the JEDEC standard and are therefore highly recommended for enthusiasts, gamers, overclockers, as well as users who assemble their own PC configurations.
The New Trident Z5 Neo RGB Operates Synchronously at 6400 MHz
An intriguing fact about the G.Skill Trident Z5 Neo RGB memory series is its improved performance. The arrival of the AGESA 1.0.0.7c microcode enables DDR5 memory to operate at higher speeds in conjunction with AMD Zen 4 processors.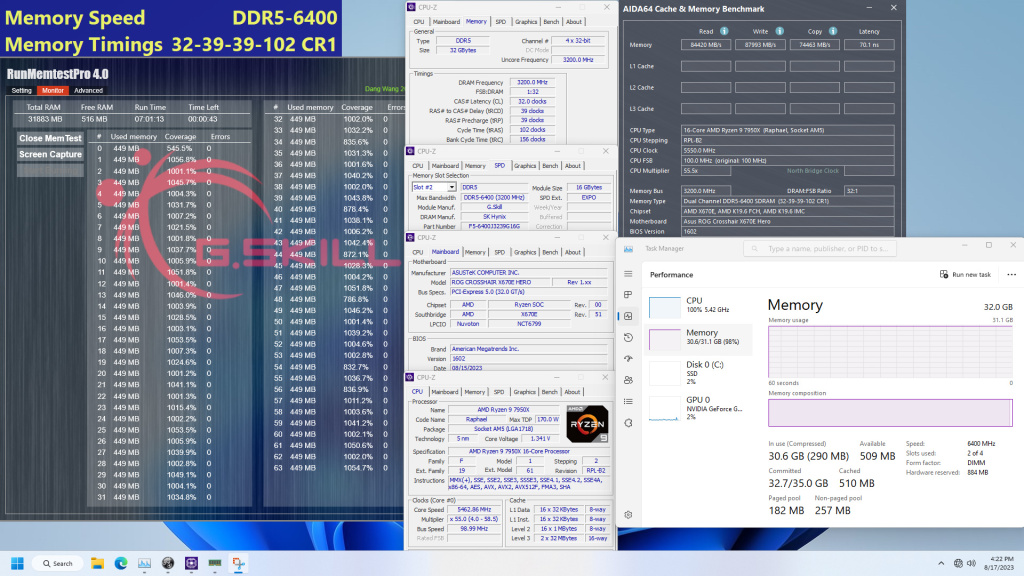 One notable improvement is the ability to operate in synchronous mode at 6400 MHz. Prior to this, the maximum effective operating frequency for DDR5 was 6000 MHz in 1:1 mode without an additional frequency divider. With the introduction of DDR5-6400 and 1:1 settings, users can expect better performance in games and applications. Additionally, the CL32 latency parameter indicates that these modules are designed for high-performance applications.
In addition to enhanced performance, G.Skill has also introduced coolers in a stylish white color, which was previously unavailable in this module series. This allows users to visually match the appearance of these non-serial memories with their "battlestation" computer style.
The new G.Skill memory modules, along with their new white coolers, will be available starting September 2023. Pricing details have not been disclosed at this time.