September 4, 2023
Decline in Market Share of Older Mainstream Graphics Cards Revealed in Latest Steam PC Hardware Report
The share of the four most popular graphics card models: GeForce GTX 1650, GTX 1060, RTX 2060 and GTX 1050 Ti is down slightly by 0.19, 0.29, 0.16 and 0.24 percent respectively, according to the latest Steam report which refers to PC hardware for August 2023. Despite this, their share ranking is still relatively high compared to the positions of the other models, ranking first (5.11%), third (4.31%), fifth (3.94%) and seventh (3.26%) place in order.
In terms of graphics card share growth, the performance of the GeForce RTX 4060 was the best this month. Its mobile and desktop versions increased their share by 0.70 and 0.23 percent, respectively, ranking first and third in the rate of increase in popularity among users.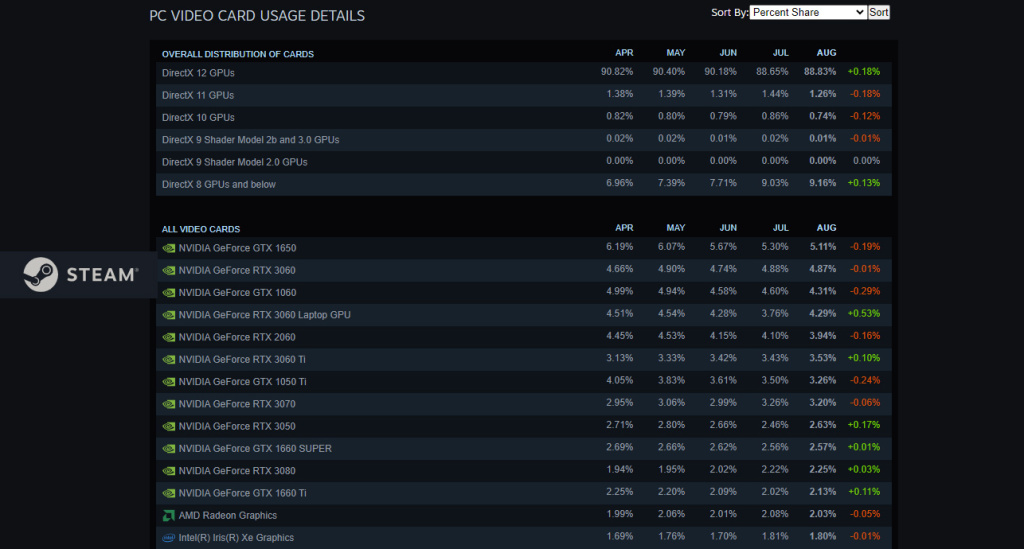 Although the share of the remaining Nvidia models from the RTX 40 series of graphics cards did not increase much, they generally show a slight trend of increasing popularity among users. In contrast, among AMD graphics cards, the temporal RX 580 still dominates taking the top spot with 1.03%. Radeon RX 7900 XTX, which appeared on the list during July, took 0.23%, which is an increase of 0.06% compared to last month.
Regarding the popularity of central processors, Intel still dominates the share of its models with 66.52%, while on the other hand AMD continues to show a slow growth trend, increasing its share by 0.24 percentage points this month and a total share of 33.43 %.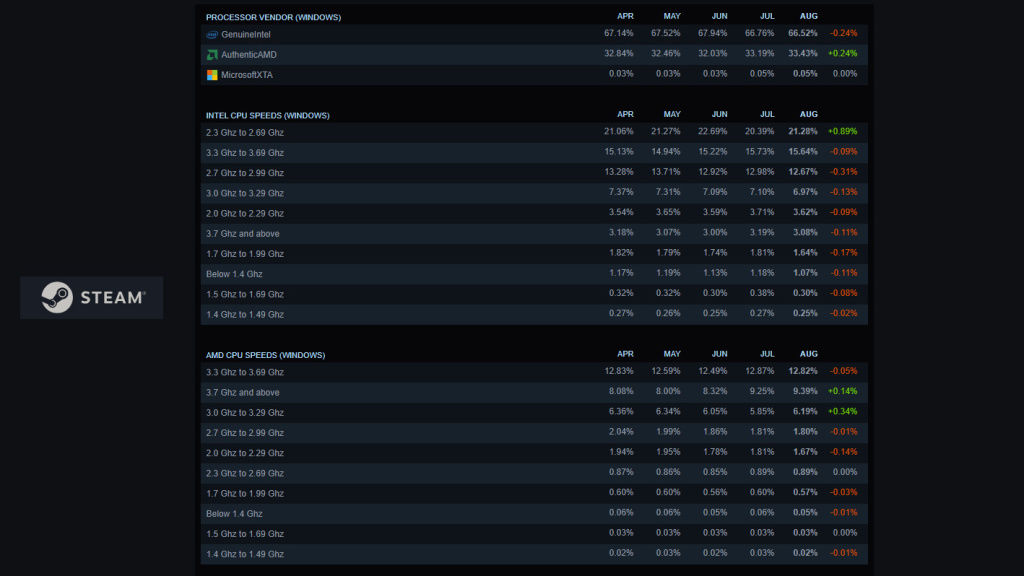 Gamers using six-core processors made up about 1/3 of the total share, followed by popularity of quad-core processors with 24.42%, and otherwise fell by more than 3 percent compared to the month of April.
In August, the share of the Windows 11 operating system continued to grow, with an increase of 2.55 percent, which covers almost 40% of the total number of users, but 55.98% of them are still using the older Windows 10, and the combined share of Windows 8.1 and Windows 7 is less than 1.5% and continues to decline.
More than half of the gaming population uses 16 GB of memory, while the share of those with 8 GB (15.76%) is not at the level of those with 32 GB of RAM in the system (20.54%). There was also a decrease of 1.48