September 6, 2023
Canon remains the undisputed leader in the camera market, surpassing Nikon and Sony by a significant margin.
Canon has maintained its dominance in the camera market, holding a 46.5% market share. In comparison, Sony, its closest competitor, has a 26.1% market share and has sold 43.9% fewer cameras than Canon.
This information was provided by Nikkei Shimbun, a leading Japanese daily business newspaper. It's important to note that Canon continues to produce some of the best DSLRs, mirrorless cameras, and compact cameras, which make up a significant portion of Sony's product range. Despite the decline in the DSLR market, Canon sold 1.32 million models, surpassing Sony's sales of 1.25 million mirrorless cameras.
Nikon secures the third position in the market with an 11.7% market share, offering a wide portfolio similar to Canon. FujiFilm ranks fourth with 5.8% of the market, followed by Panasonic with 4.2%, OM Digital (Olympus) with 3.5%, and Ricoh Imaging with a mere 0.8% share of the global market.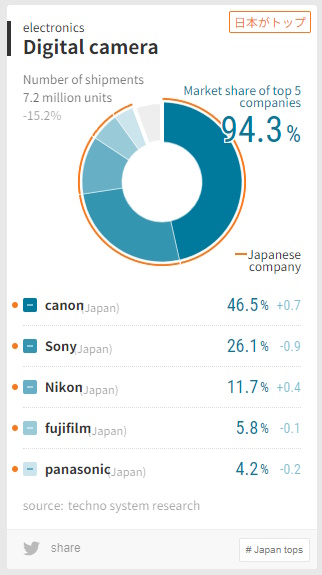 Canon and FujiFilm have a strong presence in the market for medical equipment, including X-ray and scanners, with respective market shares of 8.6% and 6.8%. On the other hand, Sony dominates the CMOS sensor market with a share of 47.9%, surpassing its closest competitor, Samsung, which holds an 18.1% share.