October 2, 2023
AMD released FidelityFX Super Resolution 3 in Forspoken and Immortals of Aveum games
Yesterday, Foresspoken and Immortals of Aveum became the first games to launch AMD FidelityFX Super Resolution 3 (FSR 3) resolution scaling technology in games, providing massive performance improvements over base resolution. The combination of temporarily raising the resolution and generating additional frames in the AMD FSR 3 operating mode enables a framerate that was previously thought to be unattainable in the most graphically demanding games.
In addition to the other 10 previously announced games with FSR 3 support, today AMD is announcing two additional titles that will add the FSR 3 option in the future, including EVE Online and Pax Dei.
The best thing for users of AMD and Nvidia graphics cards is that FSR 3 speeds up work and increases the framerate on older generations of graphics cards, which will certainly benefit a large number of Radeon RX5000 and RX6000 series users, but also those who have GeForce models from RTX 2000 and RTX 3000 series.
FidelityFX Super Resolution 3 runs fast and looks good
We couldn't resist testing how it works on a GeForce RTX 4070 graphics card and an Intel Core i7 platform in the Forspoken game at 4K resolution and the highest level of detail: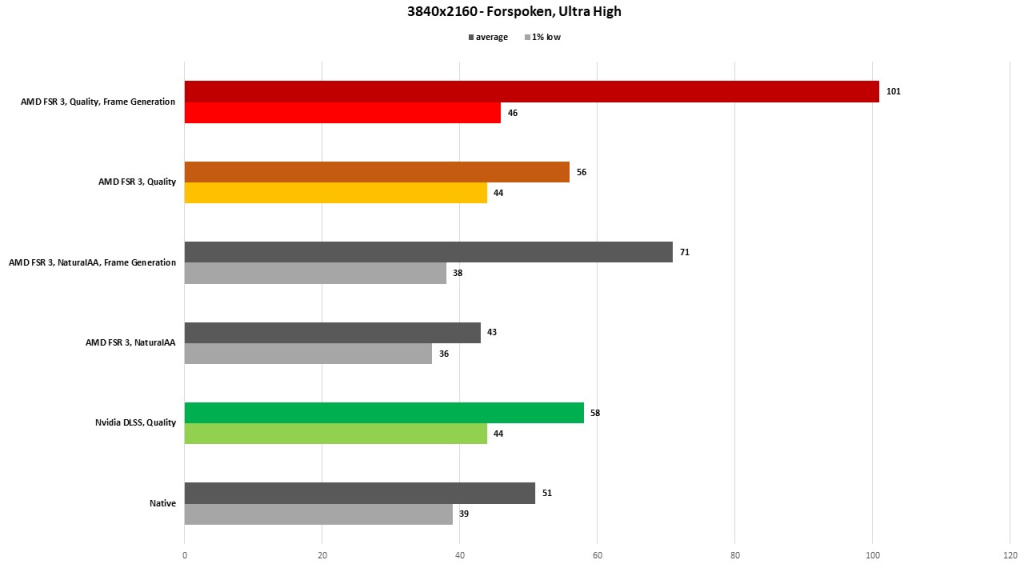 These are certainly preliminary results, and we will deal with this topic in detail in a separate attachment. Until then, this can give you an indication of how useful FSR 3 is potentially.
Regarding the quality of the image and animation, we have nothing but words of praise, in a word, the feeling is impeccable in the case of the Forspoken game, regardless of whether it is a static photo frame or the quality of the animation. There is no lag or choppy effect, and the framerate has a good pace that results in smooth and dynamic 3D animation. With the displayed acceleration and quality, and the introduction of the Native AA option, you can combine performance and display quality to your heart's content.
After all, the following photo shows it best:

More information on AMD FidelityFX Super Resolution 3, including its new "Native AA" mode and more, is available on the next page and on the AMD blog. Additionally, more detailed technical information about AMD FSR 3 is available on GPUOpen.
When testing AMD FSR 3 performance, it is recommended to use AMD OCAT (Open Capture and Analysis Tool), which has just been updated and fully supports games with AMD FSR 3 technology. You can download the latest version of OCAT here.
AMD FSR 3 works on Radeon and Nvidia GeForce graphics cards
To enjoy the best possible experience with these titles, players should download and install the latest Radeon drivers available from the following link.
Additionally, with the new Adrenalin Edition drivers, AMD has enabled a trial experience and capability, which gives gamers the opportunity to try out the upcoming version of AMD Fluid Motion Frames (AFMF) technology based on improved drivers.
AFMF enables users of AMD Radeon RX 7000 series graphics cards to increase the framerate using frame interpolation technology in thousands of existing DirectX 11 and DirectX 12 games. AMD recommends that you try out the AFMF technology and that if you have useful feedback, please send it directly to AMD using the bug report tool.
Here you can find additional information on the AMD Fluid Motion Frames feature and Insider Preview drivers with support for the described feature.